Viewpoints Featured Show
---
People and Places:


New Work by Margaret Bedell and Amanda Opsahl McConnell
January 13 - February 9, 2005

---
Margaret Bedell
Margaret Bedell is best known for her large-scale, mixed-media botanical environments, produced in a type of viscosity printing of her own invention. She inks actual leaves and flowers with layers of ink, composes them on the bed of an etching press, and then prints them on dampened paper. The layering of inks is done in such a way that they retain their clarity through each run. The result is a series of images in which the colors and luminosity change subtly from one to the next, as subsequent layers of ink are absorbed by the paper. The fundamental connection to the environment that defines this technique as Bedell's own is also the basis of her work en plein air in watercolor and oil. Her gestural brushwork, bold, effusive color and broadly painted surfaces evoke her preference for wild coastlines and vibrant, tangled gardens. Indeed, communicating the feeling of the scene leads her to work expansively, quickly and sometimes with disregard for the sanctity of her materials- she very frequently scratches through her own watercolors to reveal the roughened white of the paper beneath. For all of this, Bedell is no stranger to figure painting and here we are treated to some recent examples of portrait sketches in oil. Like her landscape and so-called stillife work (for nothing is truly still in her oeuvre), the sketches themselves are active even where the subject is taciturn. They are enlivened by the physical energy Bedell imparts through her technique, learned in part from her experience with California painters such as David Park, Paul Wonner, Richard Diebenkorn and Joan Brown.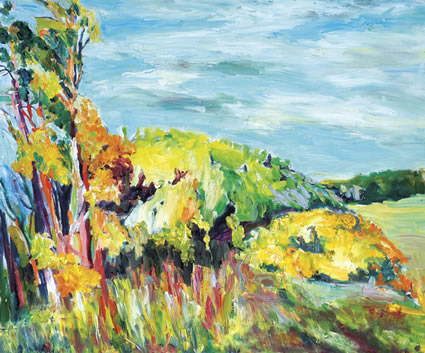 Dry Rain
oil on canvas
30" x 36"
---

Amanda Opsahl McConnell
Amanda Opsahl McConnell's work provides a dramatic counterpoint to Bedell's. She steeps herself in the qualities and vagaries of her chosen medium- and she works in many- while infusing her subjects with dreamy, sometimes fantastical content. McConnell works with metaphors for people and places as often as she records them from experience, lending an alternative type of cerebral experience to this dynamic exhibit. She presents landscapes as well as figural work and portraiture in oil, charcoal and pastel. The details of her paintings and drawings are finely observed, but she composes them loosely, allowing room for swirling, floating effects. At the same time, her portraiture is more traditionally grounded, but her treatment of the subject is delicate, infusing it with thoughtful wistfulness. Like Bedell, she comes to know her medium intimately and to handle it deftly and then challenges us to think beyond its customary applications. McConnell often paints on old palettes as if to demonstrate the history of her own creative processes and the presence of all of an artists' work in every individual effort.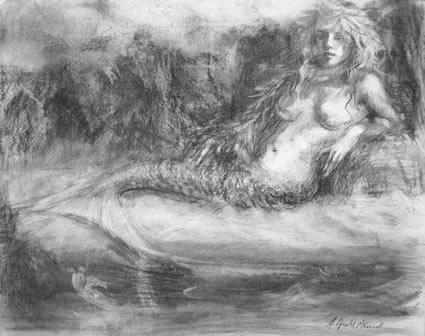 Mermaid Grotto
Charcoal on rag paper
24" x 18
$850

This mermaid's grotto was inspired by the rough volcanic lava flows that end abruptly at the sea on the island of Hawaii. The mermaid is performance artist Rachel De Boer.