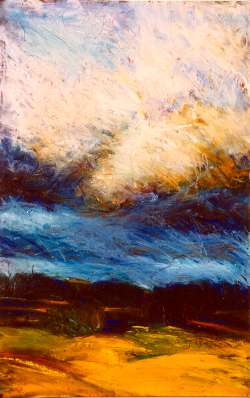 Lifting the Veil

Oil Bar on Wood Panel
DIANA DORENZO
AND THIS SHOW




Lifting the Veil

, a solo show of all new work by Diana Dorenzo, has a dual purpose. The first is to showcase new paintings, which seem to be great slices of light and air with layers of clouds floating over far-below landscapes. The second purpose is to benefit RAWA, (Revolutionary Association of the Women of Afghanistan) with 10% of Dorenzo original art sales at the opening, and 5% of sales of originals for the rest of the show.

Lifting the Veil

has a direct connection to

Behind the Veil

a recent documentary by the journalist, Saira Shah, on CNN. The documentary hauntingly portrays the plight of Afghan women, caught in a benighted society with no choice for a better life.